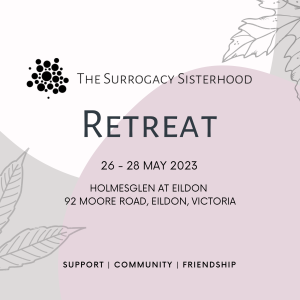 The Surrogacy Sisterhood Retreat is on in May! Ticket sales are now CLOSED.
Surrogacy is a unique and special journey, not just for the intended parents, but for the women privileged to carry a baby for them. We rely on the community of women, who are walking this path with us. My surrogacy experience has been richer and all the more amazing because of the friendships I have formed with other surrogates.
The Surrogacy Sisterhood was established to support surrogates in all parts of their surrogacy experience. Surrogacy is a perpetual journey – so whether you are new to surrogacy or gave birth a long time ago, the Sisterhood is for you.
You can more details about the Retreat in the retreat brochure.
We've run the event in previous years, and we are excited to bring it back for 2023.
Where
The Retreat will be at Holmesglen at Eildon, in Eildon, Victoria.  Eildon is about 2 hours from Melbourne Airport. We intend to arrange for car pooling from Melbourne and return. Please plan to arrive in Eildon by 4pm on Friday 26 May.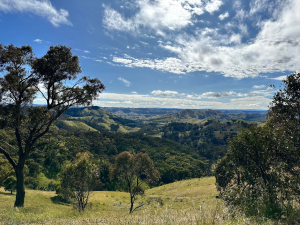 When
The Retreat will run from 4pm Friday 26 May to 2pm Sunday 28 May 2023.
Can I come?
The Retreat is exclusively for past, present and future surrogates. Partners, children and intended parents are not included in this event.
Registration is now closed.
The Program
The program will include a balance of support, learning, fun and friendship for everyone.
We are delighted to have not one but two surrogacy counsellors join us to deliver the Retreat Program. Katrina Hale and Sarah-Jayne Duryea will deliver the program which will be released shortly.
Have a question? You can email me.